With summer winding down and school right around the corner, it's time to gather around the dinner table and get back to spending time as a family.  Schwan's Home Service, America's largest direct-to-home food delivery service, is a quick and easy solution that limits prep time and maximize family time.
I was first introduced to Schwan's through a friend of my husband's who was one of the food delivery service delivery truck drivers.  We have tried many of their meals, and the kids really enjoyed their ice cream.
Who can resist the combination of peanut butter and chocolate? A favorite of ours is the Schwan's Peanut Butter Candy Crunch Ice Cream, which I'm serving over my recipe for Ooey Gooey Chocolate Brownies!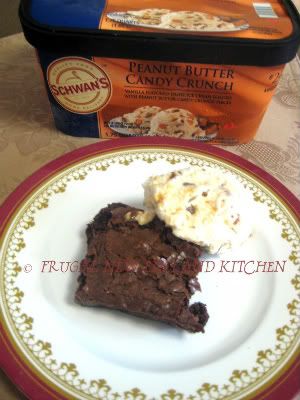 Online Grocery Store and Home Delivery Service
Back-to-School Meals With Your Family
Schwan's is an online grocery store that offers food delivery to your home. Products range from ice cream and dessert to meats, dairy and recipes to match.  With hundreds of items to choose from, Schwan's make it easier for parents to get a delicious meal on the table in minutes.
Selections include:
Fruits
Vegetables
Meat
Seafood
Entrees
Pizza and Pasta
Side Dishes
Appetizers
Snacks
Ice Cream
Desserts and
Beverages
Meals for 1, 2, 4 or more are available, which is great for those parents who are empty nesting after the kids go off to college or start families of their own.
At Schwan's, you can print valuable coupons online!
For More Information Visit: Schwan's Home Delivery
© 2011 Frugal New England Kitchen