Are you a Foodie?  Do you watch the Food Network episodes and sit there and drool like I do over every single morsel of delicious cakes such as that Fresh Apple Cake with Caramel Whiskey Sauce that Paula Deen whips up? Or perhaps you enjoy Rachel Ray and the ease of preparation for her 30 Minute Dinners? Maybe Martha Stewart is more your style?
There's an old saying that "hindsight is wonderful." The Culinary Institute of America, now located in Hyde Park, New York, at one time was located in New Haven, CT which is not too far from me. My husband's cousin is a graduate of the Institute when it was in New Haven, and he would stay with my in-laws during breaks from classes.
Over the years I've come to realize that I've become a food fanatic, and perhaps  should have looked into enrolling in the Culinary Institute and it's hospitality programs while the school was in Connecticut. New England has some of the best culinary schools in America such as Johnson & Wales University in Rhode Island and the New England Culinary Institute in Vermont.   Now I just share my passion for cooking and baking through my food and recipe Blog.
But it may not be too late for you!  If you're a foodie, learn more about how you can pursue a career in the culinary arts or hospitality management field!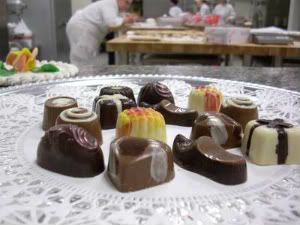 Guest Post
Young professionals the world over are faced with the daunting prospect of choosing careers in a time of great economic uncertainty and turmoil. Industries of all types have adopted an overly cautious approach to hiring new employees, and this reticence has deeply affected those looking to start their professional lives with a meaningful vocation. These are uncertain times, but opportunity lies in a calling you may have never previously considered.
I posed a question for people unsure about their career prospects: do you love food? I mean, really love food. Do you consider yourself a capable chef at home or an adventurous eater in your food community? Do your friends refer to your as the go-to person for restaurant recommendations or do they look to you for tasty recipes? If so, you may be a perfect fit for the culinary life. You could hone your passion for eating through professional schooling and training and develop a fruitful and lifelong culinary career. Still not convinced? Consider some specifics on culinary education and job opportunities.
What you can expect in culinary school
First of all, people interested in culinary school need to posses at least a high school diploma or a GED in order to be eligible for enrollment. Like any other higher education institution, culinary schools offer a wide array of vocations to study within the diverse culinary field. Among other routes, you can choose from specific culinary styles (French, Latin, etc.,) pastry cooking, hotel and restaurant management, and catering. Depending on your desired culinary path, you can complete your formal education anywhere from 2 to 4 years, requiring a tuition payment similar to most state universities.
Culinary schools match students with dynamic food industry and cooking experts in order to foster a deep understanding and appreciation for all things food. Culinary students will work in high-functioning kitchens in realistic restaurant environments in order to hone their craft, while management students work the front end dealing with customer satisfaction and running the floor. In essence, culinary schools ingrain their students with a confidence and meticulous skill in the art of food so they can capably meet the dizzying demands of modern food culture.
Get access to a dynamic and past paced world of food
One of the innate advantages to a culinary career is the permanence of the field. Food isn't going anywhere; it's never out of style. In fact, food culture has done nothing but skyrocket, diversify and become more exciting in the past few years. The United States in particular has been seized by a passion for to bring new and innovative cuisines from around the world to people's palettes. Should you enter the culinary field, you'll be entering a world driven by food lovers whose only concern is to cook and eat the best food possible. Imagine having a life dedicated to the pursuit of culinary perfection; your opportunities wouldn't be limited by the stifled economy, only by your own culinary ambition. So why not consider the culinary arts?
Mariana Ashley is a freelance writer who particularly enjoys writing about

online colleges

. She loves receiving reader feedback, which can be directed to mariana.ashley031 @gmail.com.
© 2011 Frugal New England Kitchen