I'm so excited to let you know that that I have been honored by having both of my blogs, Frugal New England Kitchen and Moomettes Magnificents nominated on CBS Connecticut's Most Valuable Blogger Awards 2011 as Finalists in the Lifestyle category!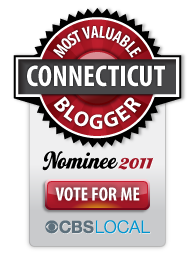 CBS Local Most Valuable Blogger Awards 2011 Lifestyle
It's especially exciting to be recognized locally in Connecticut as well as the New England media market areas.
Although many of you are my friends from throughout the United States and internationally, you know that I try to share a part of my life with you in special travel and photography sections on how important New England, and Connecticut in particular is to me. There you will always find fun things to do in Connecticut! 
Here you'll also find recipes that are traditional and unique to the New England states and good, old-fashioned frugal Yankee advice on how to save money.
Please VOTE
You can help me with this coveted award and distinction by Voting once every day now through Sept. 9th!
Just click the banner or VOTE for Frugal New England Kitchen HERE!
Many of my friends were nominated in various categories in Boston, Chicago, Dallas/Fort Worth, Sacramento, Philadelphia, Miami, and points beyond. Let me know if I can vote for YOU!
Thanks!
© 2011 Frugal New England Kitchen